Erin Medina- Co-Owner, Hairstylist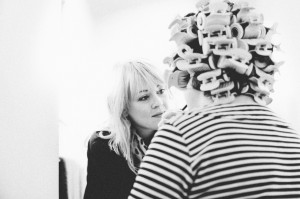 Erin moved to Lawrence in 2003 to embark on her career as a hair stylist. She spent four years at the notable Aveda salon, Headmasters, where she expanded her skills and refined her techniques. After several years of working independently in downtown Lawrence, she partnered with Sarah Casto to open Salon Blush in 2010.
Erin has completed courses in several different lines including Pravana Naturceuticals and Deva Curl Cutting which she is currently using in the salon. She is very passionate about haircutting and coloring and understands the importance of continuing education and keeping current.
Erin is a devoted mom to her infant son born in August 2013 and is currently not able to take new clients, but would love for you to check back in the next year if you are still seeking a stylist.