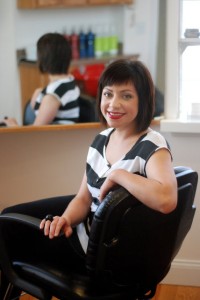 With an interest in hair going back as far as she can remember Sarah decided to make it a career in 2002. She attended the Community College of Cosmetology, now B Street Designs, in her hometown of Topeka. After moving to Lawrence in 2003 she started working in an Aveda concepts salon. Working with Aveda gave Sarah a great appreciation for taking pride in her work, respecting the environment, and continuing education. In 2007, after working together for several years with an Aveda salon, Sarah and Erin struck out on their own into the space that is now Salon Blush.
Sarah's own unfussy and current style reflects her approach to work, that hair should be personalized, current, and unfussy. No matter what your inspiration Sarah strives to create this for you. She has created many beautiful looks, including cascading curls, rocking pixies, strong men's styles, and classic bobs. Hair coloring is also a passion for Sarah from Vibrant reds, shimmering blondes, to gracefully blended grays.
At this time Sarah is accepting new clients.
*Sarah is a DevaCurl certified stylist.